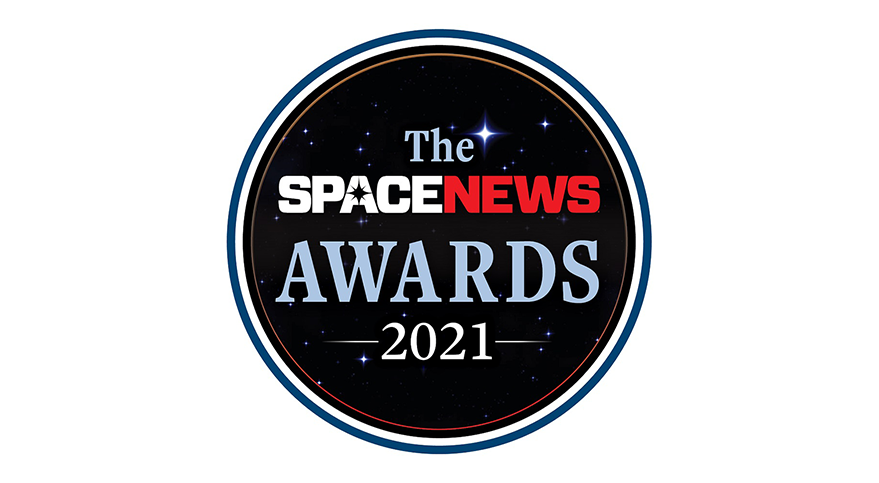 The SpaceNews Awards 2021: Meet the nine winners
Date: December 6, 2021 | Outlet: SpaceNews | By: SpaceNews Staff
SPACE DEVELOPMENT AGENCY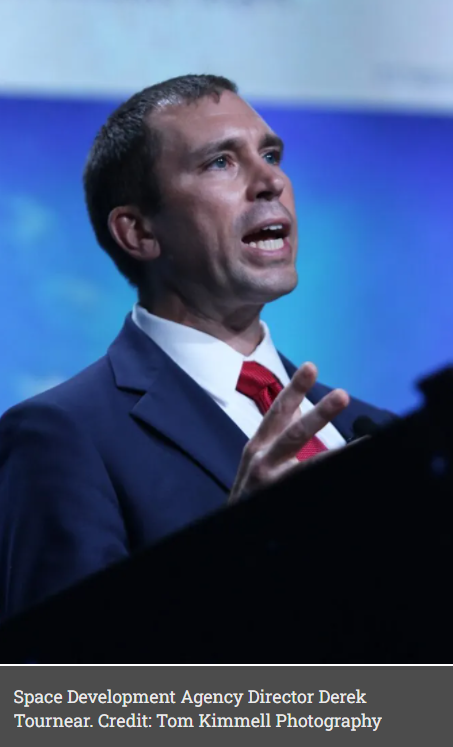 When the Pentagon created the Space Development Agency in 2019 to stake out a new satellite architecture for the military, SDA chose as its motto Semper Citius, Latin for "always faster." In less than three years since its inception, the SDA has launched its first experimental payloads and is on track to deploy in 2022 the first batch of satellites of a low Earth orbit constellation known as the Transport Layer.
SDA plans to build a network of hundreds of interconnected satellites by 2026, a pace rarely seen in military acquisitions. A typical DoD space program takes a decade or longer from conception until the first satellite reaches the launch pad. SDA wants to break that mold as it looks to modernize DoD's space architecture and, in the process, rewrite the military's playbook for procuring satellites.
SDA has proven a disruptive force in military space procurement by embracing the concept of "proliferation" — deploying relatively low-cost satellites in large numbers to deliver critical military services. DoD typically has favored smaller constellations of costlier, more complex satellites.
If all goes to plan, SDA will launch into orbit an assortment of satellites made by a variety of contractors. While most military satellite programs spend many years developing technology before fielding any hardware, SDA will launch satellites in two-year increments. This cadence allows the insertion of new capabilities and provides opportunities for vendors to compete for contracts every two years.
SDA's proliferated space architecture was initially met with skepticism. DoD satellites historically have cost hundreds of millions of dollars each, but SDA Director Derek Tournear persuaded Pentagon leaders that this new space architecture would be affordable. SDA will buy satellites from existing commercial production lines at prices on the order of about $20 million each.
It's no surprise that SDA's departure from DoD's traditional procurement culture has sparked challenges. Some contractors have filed bid protests with the Government Accountability Office contesting SDA's solicitations. The agency in each case was able to make swift adjustments and get the protests dismissed. So far, Tournear said, programs remain on schedule despite these setbacks.
A looming concern for SDA is a congressionally mandated reorganization. SDA currently is a stand-alone agency that reports to the Office of the Under Secretary of Defense for Research and Engineering, allowing SDA to operate as a relatively independent buyer. By October 2022, SDA will be under the Space Force.
Tournear, named SDA director in June 2019, said he expects continuity despite potential disruptions caused by the reorganization.
Maintaining a steady pace is key to the agency's goal of creating a predictable market for satellite manufacturers and payload providers. Being a reliable customer is essential since SDA needs to tap industry-funded innovation.
"No government agency has moved more quickly than SDA," said Chuck Beames, chairman of the SmallSat Alliance. "Satellites will be operational on orbit in less than two years from contract award, something that has notoriously taken a decade or longer."
Beames is hopeful SDA's culture will permeate all military space procurements when the agency is folded into the Space Force.