SMALL BUSINESS PROGRAM OPPORTUNITIES
SDA is responsible for unifying and integrating next-generation space capabilities to deliver the National Defense Space Architecture. To accomplish this task, SDA capitalizes on a unique business model that values speed and lowers costs by harnessing commercial development.
The participation of innovative small businesses in the defense industrial base is critical to the United States' efforts to maintain its technological superiority, military readiness, and warfighting advantage. SDA uses every opportunity to engage small businesses and their innovative capabilities enabling them to compete for DOD prime contracts and subcontracts, along with programs aimed specifically at small businesses. In doing so, SDA is implementing the Administration's priority to reduce barriers to access and increase opportunities for small businesses.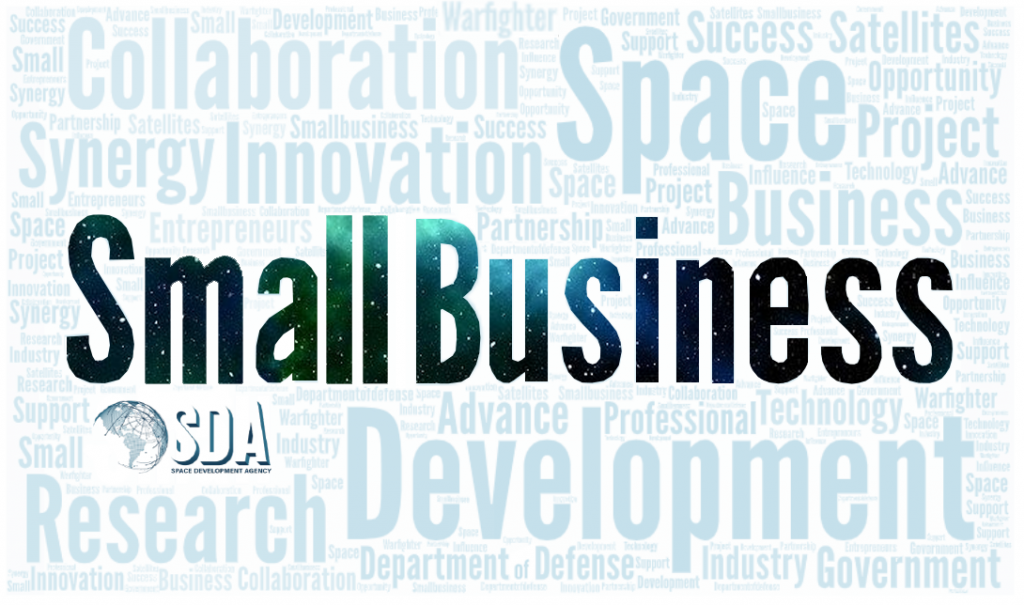 In October 2020, SDA issued a Broad Agency Announcement (BAA) inviting submissions of innovative research concepts supporting the advancement of our national defense space capabilities through the Small Business Innovative Research (SBIR)/Small Business Technology Transfer (STTR) program.
While SDA prioritizes mature technologies that can be rapidly fielded, we can make pivotal investments in small business research and development activities, particularly when the return on those investments can be leveraged in future acquisitions. You will find our agency working with a variety of small businesses with promising technologies to "seed the ecosystem."
During fiscal year 2021, SDA:
Received 152 small business proposals and awarded more than $8.5 million to seven small businesses;

Released 12 SBIR/ STTR program topics and selected multiple small businesses and non-profit research institutions for awards;

Selected a small business (York Space Systems) to serve as a prime contractor on one of our larger contracts in Tranche 0 – directly impacting the NDSA;

Provided a small business with their first shot to launch a payload (Prototype On-Orbit Experimental Testbed (POET) by SSCI) to orbit through SBIR Phase II program funding.
Through SDA.mil, or directly on SAM.gov, small businesses can access our Broad Agency Announcements, including one specific to small business and one for systems, technologies, and emerging warfighting capabilities to which small business can submit: These BAAs:
Enable leap-ahead improvements for future tranches of currently planned NDSA capability layers

Enable new capability layers to address other emerging or evolving warfighters needs.

SDA released a BAA to launch its participation in DOD's Small Business Innovation Research (SBIR) and Small Business Technology Transfer (STTR) program. In the future, SDA will participate in the DOD-wide BAA.

Through a competitive awards-based program, SDA's SBIR/STTR efforts will enable small businesses to explore their technological potential and provides the incentive to profit from its commercialization.

SDA will post updated Small Business Opportunities throughout the year as we identify specific technical topics for industry consideration and will consider partnering with other organizations such as DARPA or AFRL based on their research interests and the quality of small business proposals.
"[DOD is] committed to examining the administrative barriers that small businesses face in working with us.  And we will take meaningful action to remove barriers where we can."

Deputy Secretary of Defense Kathleen Hicks
"Small businesses enhance U.S. national security. Small business innovation in the defense industrial base not only supports DOD's efforts to maintain technological superiority, but also improves military readiness, and warfighting advantage. That's why DOD is actively addressing the concerns of small businesses and working with Congress to reduce barriers to entry to bring more research and development projects into the marketplace."

Undersecretary of Defense for Research and Engineering Heidi Shyu