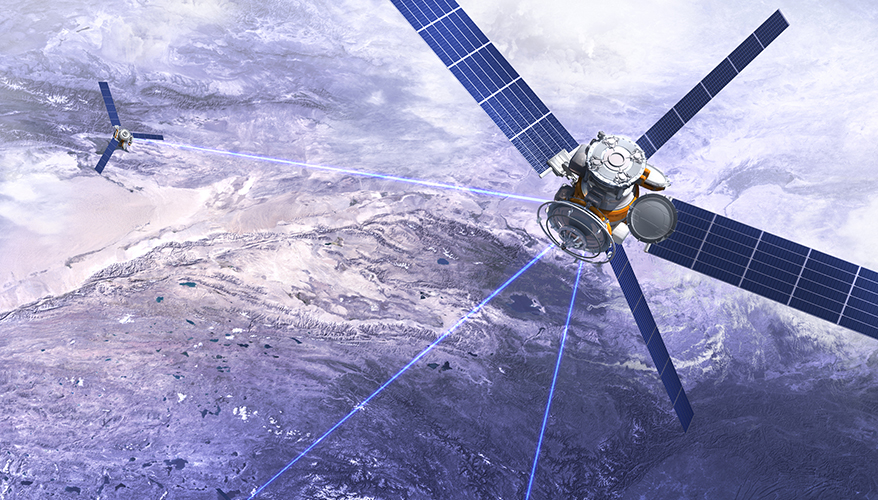 Space Development Agency Rolling Out Solicitations
Date: Jan. 21, 2020 | Outlet: National Defense Magazine | By Jon Harper
The Space Development Agency released a broad agency announcement Jan. 21 for new technologies, and additional solicitations will be coming down the pipeline soon, the organization's director told reporters.
The SDA is charged with accelerating the development and fielding of cutting edge space capabilities for the U.S. military, and defining and integrating a future threat-driven architecture. The mission is growing in importance as other nations improve their own assets and anti-satellite weapons. The Pentagon now considers space to be a warfighting domain on par with land, air, sea and cyber.
The organization was stood up last year as part of President Donald Trump's broad push to beef up U.S. space capabilities.
Congress recently provided appropriations to SDA for the first time in fiscal year 2020.
"Now that we're actually having appropriations, we're going to push forward," Director Derek Tournear said during a meeting with reporters at the Pentagon.
SDA is pursuing "a resilient military sensing and data transport capability via a proliferated space architecture in low-Earth orbit," according to the broad agency announcement.
The next-generation national defense space architecture, or NDSA, will be comprised of seven layers including: a transport layer to provide assured, resilient, low-latency military data and communications connectivity worldwide to the full range of warfighter platforms; a battle management layer to provide architecture tasking, mission command-and-control, and data dissemination to support time-sensitive kill chain closure at campaign scales; and a tracking layer to provide global indications, warning, tracking and targeting of advanced missile threats, including hypersonic missile systems, according to the BAA.
Other layers will include: a custody layer to provide 24/7, all-weather custody of time-sensitive mobile surface targets, to support targeting for advanced missile systems; a navigation layer to provide alternate positioning, navigation and timing for GPS-denied environments; a deterrence layer to deter hostile action in deep space (beyond geosynchronous Earth orbit up to lunar distances); and a support layer to enable ground and launch segments to support a responsive space architecture.
"Through this BAA, SDA specifically seeks novel architecture concepts, systems, technologies and capabilities that enable leap-ahead improvements for future tranches of currently planned NDSA capability layers, and enable new capability layers to address other emerging or evolving warfighters needs," the solicitation stated.
The agency is asking for executive summaries, white papers and proposal abstracts and full proposals.
The agency plans to deliver new capabilities to the military in two-year tranches, beginning in fiscal year 2022, Tournear said.
The BAA is not focused on any particular tranche or any particular capability, he noted.
"We don't have any preconceived notions for that solicitation," he said. "It's an open solicitation that we can use as a contracting vehicle if people come up with ideas that will fit into our architecture."
Additional solicitations will focus on specific capability sets.
"The first capabilities we're going after are capabilities to enable beyond-line-of-sight targeting of time-sensitive targets … [including] ground and sea targets that we can directly give targeting information to a weapon system and be able to take those out," Tournear said.
The other initial capability being pursued is detecting and tracking advanced missile threats including hypersonic weapons. The aim is to be able to provide targeting information directly to a warfighter or weapon system in theater, he said.
The agency plans to have a set of technologies known as "tranche zero" in place by the end of fiscal year 2022.
"That is going to be several dozen satellites with the capability to show that you can operate a proliferated constellation, [and] that proliferated constellation can actually talk in real time to weapon systems, can actually do detection, do tipping and cuing, and show how that whole network will work," he explained.
Tranche one, slated to be ready in 2024, will have enough satellites on orbit to provide persistent regional coverage. Tranche two, scheduled for 2026, will enable global coverage. Additional tranches of space technology will go up every two years, he said.
The release of the BAA occurred a week after a request for information was issued to suss out what industry thinks would be the right standards for an open architecture for optical inter-satellite links. That RFI will inform the upcoming solicitation for the tranche zero data transport layer, due out this spring, Tournear said.
Another solicitation for a threat tracking layer is also slated for release this spring. Contract awards are expected this summer.
"We'll also have some [requests for proposals] that hit the street later this year to do data fusion so that we can show our custody layer … can do tipping and cuing," he said.
Those RFPs will likely be issued later this spring. Another RFP for ground systems integration will come out in the summer, he said.
The Space Development Agency has ambitious plans for building out and replenishing the nation's next-generation space architecture.
Tranche zero will include several dozen satellites, Tournear said. "The plan from that point on is to build on the order of one satellite a week per layer and then launch those."
Tranche one will have hundreds of satellites. The architecture will eventually include thousands of spacecraft when additional tranches come online.
The systems will be designed to last for five years, he said.
"You won't replace all of the satellites on those two-year tranches, but you'll add new capabilities and then the satellites will be replenished basically in two-and-a-half tranche cycles," he explained.
The SDA is looking for cost-effective spacecraft.
"They're not going to be billions of dollars," Tournear said.
"It's going to be in line with what you would expect with commercial buses that are half-ESPA to ESPA-class" size of a few hundred kilograms, he added. "You're looking in the 10-ish million dollars per satellite."
The agency is open to doing business with variety of vendors, he noted. It wants "companies that are going to give us a good solution that we can believe their cost and schedule metrics. I'm open … to any and all proposers."
The SDA currently falls under the office of the undersecretary of defense for research and engineering, but it is slated to be folded into the new Space Force in October 2022.
"That is still the timeline we are working under," Tournear said. "That will allow us to have tranche zero up and operational to be able to demonstrate the capabilities of a proliferated system and how that fits in" with the Space Force mission.