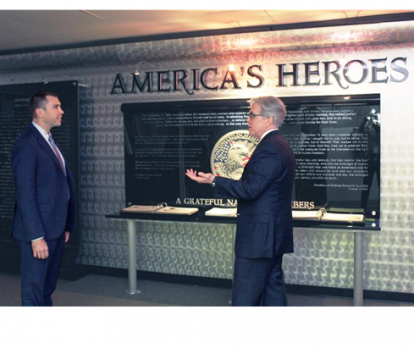 How The Pentagon's True Space Maverick Became The Soldier's Best Friend
Date: December 21, 2020 | Outlet: Forbes | By: Charles Beames
This past week, the United States Space Force turned one year old. In the months leading up to the anniversary, the infant military branch started to form an image all its own. In July, the newly instituted Space Force unveiled its logo and new motto, Semper Supra, "Always Above." The motto was reminiscent of other military branches, like that of the Marine Corps "Semper Fidelis," meaning "Always Loyal," or the Coast Guard's "Semper Paratus," meaning "Always Ready."
No surprise then, that the director of the Space Development Agency (SDA), Derek Tournear, chose Semper Citius as the SDA's motto – "Always Faster." Not because of satellite speeds of 17,000 mph, but to underline the idea that fielding good-enough capabilities fast must be our highest priority to ensure space superiority. This is preferable to the alternative of delivering the perfect solution too late because, as Tournear has reminded me, "war waits for no one."
As he walks across the Pentagon's large hallway to greet me, it's impossible to miss the easy confidence of a leader forged outside of the five concrete walls that house our Department of Defense. I had asked Tournear to sit down with me and talk about the SDA, though our meeting initiates with a quick detour to visit a small 9/11 memorial dedicated to America's Heroes on the fateful day.
As it turns out, the 9/11 attack on the Pentagon is etched deeply into Tournear's memory. He suggests that it would be valuable for us to reflect at the memorial for a few minutes before we head back to his office to discuss the direction of the SDA. We talk about that infamous day like it was yesterday, and fresh on both our minds is a reality that every combatant and veteran is intimately familiar with: that war never waits until the friendly nation is ready.
The once-bustling building is comparably vacant these days, but Tournear assures me that the internecine budget warfare among the services and agencies I remembered from my younger years continues unabated. He jokingly reminds me of an adage about executives in the Pentagon, "the only agency of the federal government where you're working until 10 p.m. many nights, knowing that there are eleven others doing the same to prevent you from getting it done."
This is a typical comment on the bureaucracy of the Pentagon and its paralyzing amount of paperwork and processes that curtails true advancement. Yet in recent years, the U.S. military has made strides to change this status quo, and the SDA has, in large part, spearheaded that effort. There can be no doubt that the last few years have witnessed great leaps forward in space, the most obvious of which being the standup of the U.S. Space Force, dreamed of by many for decades. Perhaps the most influential in the long term, however, is the creation and success of the Space Development Agency. Charged with leading the next generation National Space Defense Architecture, it is succeeding in the most vital mission for the nation's future space posture. In just over a year since it was created, the SDA has conceived and is competitively acquiring an unparalleled array of satellite systems. With a revolutionary vision for space support to combat operations, the agency has moved at lightspeed compared to what its predecessors have been capable of. When these satellites are launched into orbit in two years, ground forces will have layers of satellite constellations dedicated to supporting them for the first time. The secret to SDA's success is borne of the spirit, devotion, and singular focus – speed – of Tournear and the 100-member team he leads… Semper Citius, indeed.
The SDA's Focus on Speed is Essential to Support Soldiers on the Ground
No leader nor government agency has moved more quickly. Major competitive acquisitions, which typically take years to complete, are finalized in two months. Under Tournear's leadership and direction, satellites will be operational on orbit in less than two years from contract award, something that has notoriously taken a decade or longer. No other agency is focused on time, he tells me, which is essential to ensuring that our soldiers on the ground have the space support they need now – be it surveillance, remote communications, or hypersonic missile tracking. In Tournear's mind, the Pentagon bureaucracy is focused on cost prediction and its engineers, on technology. Meanwhile, fielded forces wait and wait – but not on his watch.
Tournear took to heart the advice of his early mentor, DARPA's legendary director Dr. Tony Tether. Tether told young Tournear that no senior government executive can lead effectively until they also have the industry experience to complement their knowledge as a government customer. What Tournear has learned from his industry experience after DARPA, combined with his patriotism and deep sense of duty, is leaving an indelible imprint on the agency and setting the bar high for every other executive trying to keep up with his energy.
The trailblazing, "Always Faster" SDA has already shaken the space community to its core. Full and open competitions done in a matter of months instead of years, and satellites deployed in two years instead of ten are unheard of, and this Pentagon leader has a sense of warfighting urgency unseen since 9/11 and unlike any other I've known. His eagerness to listen and learn might lead to further improvements down the line, too, and will prove invaluable to a space industry that too often cannot get out of its own way.
By 2022, the SDA will be folded into the new U.S. Space Force, at this point mostly made up of units and airmen transferred over from the Air Force. For the good of the nation, many of us remain hopeful that Tournear's example will be replicated long into its bright future and continue to move us forward at a pace competitive to that of our deadliest adversaries, because war will not wait until we are ready.