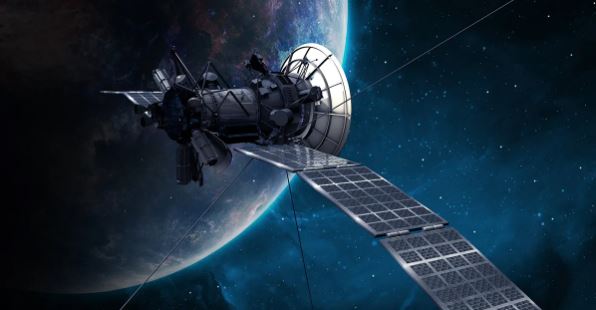 SPACECOM's Gen. James Dickinson, SDA Director Derek Tournear Highlight Integration & Space Domain Awareness as Top Priorities
Date: May 19, 2022 | Outlet: GovConWire | By: Summer Myatt
U.S. space agencies are prioritizing "integration by design" with mission partners, industry, academia and allied forces to tackle threats and deter adversaries in the largest and most highly contested domain today.
Gen. James Dickinson, commander of the U.S. Space Command said the "partnered element" of the command's approach to mission operations is "absolutely imperative."
"I've said frequently that U.S. Space Command cannot go it alone," he reiterated during the Potomac Officers Club's Second Annual Industrial Space Defense Summit. "Our area of responsibility is too vast and our mission tasks too complex and our role in national security too vital for us to do it all ourselves. I have a keen interest in ensuring that we are aligned with all of our mission partnerships."
The need for robust partnerships and unified forces in space is underscored by the recent streak of complex geopolitical developments, destructive behavior in space and growing democratization of the domain.
China and Russia, for example, are rapidly developing space capabilities that "threaten the stability and security of the domain," Gen. Dickinson explained. "Direct ascent anti-satellite missiles, directed energy systems, hypersonic missile tests and satellites capable of grappling other satellites represent just a few of those developments," he said.
Although space is increasingly volatile and no longer benign, Gen. Dickinson emphasized that "it need not be hostile" and that U.S. Space Command's top objective is to "deter conflict from beginning or extending into the space domain."
A key element of this integrated deterrence is "detecting hostile activity through space domain awareness," which Gen. Dickinson cited as his number one priority for the command.
Along this effort, the Space Development Agency is currently building out a network of satellites across a spectrum of orbits that will eventually be able to detect and track a range of targets like hypersonic glide missiles, missile launchers, ships and other vessels.
Ultimately, SDA's goal for this satellite "mesh" is to dramatically accelerate the warfighter's process of detecting a threat, tracking it, calculating a fire control solution and then sending that solution down directly to a weapon system, according to Dr. Derek Tournear, director of the Space Development Agency and a previous Wash100 Award winner.
Dr. Tournear's remarks during the summit outlined a comprehensive schedule for the "spiral development" and rollout of these satellites through a series of different "tranches." But Tranche 0, often referred to as the Warfighter Immersion Tranche, is what's keeping Dr. Tournear "awake at night."
Tranche 0, which is made up of 28 satellites, is scheduled to launch in late September 2022, about 19 weeks from now. While 28 satellites is not enough to actually affect a fight, Dr. Tournear said it will be enough to facilitate exercises and wargames, and "allow the warfighter to get used to actually using a network of satellites that provide them a small, but operational network in space, as well as OPIR data that can come down directly into theater."
"Tranche 0 is all about developing the concept of operations and the techniques and procedures that the warfighter will then use as we move forward into a truly operational system," Dr. Tournear said.
The minimum viable product for Tranche 0 hinges on two capstone demonstrations that involve detecting a hypersonic glide vehicle and moving data from a targeting cell up to the transport layer.
"We will show that we can close the entire chain of detection of a hypersonic glide vehicle with our wide field of view tracking satellites, send those down to the ground where they can be fused with other sensor data and then send that fused sensor solution back to the transport layer so that it can be sent down directly to a warfighter in theater via Link 16," described Dr. Tournear of the first capstone demonstration.
Looking even further into the future, SDA expects to continue the spiral development of its satellite network with the launch of Tranche 1 in 2024, which will give the agency initial warfighting capability.
Today, both SDA and the U.S. Space Command are deepening their partnerships with industry to accomplish their respective goals and ultimately ensure the country's space superiority.
For instance, the Combined Force Space Component Command's commercial integration cell — the Space Command's flagship case study for interacting with industry — is currently working to enable operational synergy through real-time information exchanges between satellite owners and operators, tactical-level users and warfighters around the world, Gen. Dickinson shared.
Dr. Tournear also highlighted that SDA is committed to delivering the best warfighter capabilities above all else, which means the agency is not tied to any one vendor. He stressed that SDA will have full and open competition for every tranche and every layer of its satellite constellation.
In closing, Gen. Dickinson zeroed in on the overarching purpose for more robust integration and improved space domain awareness: "We must not forget that we are in an unprecedented and dangerous strategic environment. Our competitors are rapidly advancing in all domains and to successfully deter conflict, we cannot do it alone."